Welcome to Together For Good!
Together For Good is a non-profit organization created to help traveling individuals make a difference in the lives of others. We provide detailed information on opportunities to give back on vacations as well as bring groups together on high profile trips and special events. Our staff has more than 15 years of experience in the travel, media and voluntourism fields.
Our mission is to encourage travelers to give back on vacation in order to improve the lives of disadvantaged children and teens in the Caribbean, Mexico, Central America and throughout the world. Donating to others takes little time and your help can make a huge difference in the lives of less fortunate children.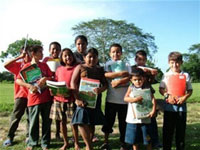 Many individuals want to be socially responsible and help others internationally, but do not have the time or money to do a separate extensive volunteer vacation. The goal of this website is to show you how you can make a difference and give back to others as part of any trip you might take to these regions.
Giving back is so easy to do. Just bring along a backpack of school supplies or take some extra clothes in your suitcase when you go on a cruise or travel to a resort location. There are schools and orphanages that desperately need your help in almost every location of the world.
Many resorts and cruise ports in the Caribbean, Mexico or Central America are located near schools, orphanages and other community organizations that could use in-kind donations of school supplies, books, clothing, shoes, and other personal items. Some resorts have established formal programs to support organizations in their areas while concierges at others can help you achieve your goals. If you are vacationing at a resort and would like to make a difference while in the area, see our page on helping others on resort vacations for suggestions.
Cruise vacations are some of the easiest vacations to combine with giving back, as independent shore excursions can often include a stop at a school or orphanage along the way. In some ports, such as Cozumel, a number of attractions and beach clubs serve as official drop-off points for donations of school supplies for local charities. In others, some organizations will come to the cruise port to pick up items. In Jamaica and the Dominican Republic, the interest in giving back has become so significant that local tour operators added pages on their websites to provide detailed information on giving back to local schools and other organizations. See our page on helping others on cruise vacations for more details.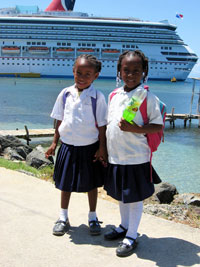 If you are going on vacation to the Caribbean, Mexico or Central America and would like to make a difference, take a look at the destinations directory section of this website to locate just a few of the many organizations that can use your help. Through our research, Together For Good has located schools, orphanages, charities and organizations that welcome in-kind donations to assist in their endeavors. A number of these organizations have been visited. In many cases, we have relied on the information provided by volunteers, directors, and other individuals involved with these groups and we do not guarantee the completeness or accuracy of the information provided. We encourage you to use the information you find here as a starting point for doing your own independent research on these organizations and determining which, if any, you would like to help on your travels.
Thank you for visiting our site and for your interest in giving back to underprivileged children and teens in less fortunate areas of the world. We can do so much to help the lives of these children, and it is all so easy. Just think of the change that could be made if only five percent of the millions of cruise and resort vacationers brought a backpack of school supplies or other needed items items along with them. We can make change can happen - one person at a time.
As John F. Kennedy said, "One person can make a difference and every person should try."